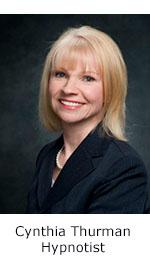 Bring about the desired change and improvement to your life with hypnosis. Whether you want to lose weight, stop smoking, reduce stress, overcome fears, achieve goals, or reach peak performance, hypnosis can help.
We have a full time hypnosis practice offering confidential, professional hypnosis services in a quiet office setting, situated in the premiere North Raleigh business community at 8300 Falls of Neuse Rd. Live, one to one sessions are customized to meet your specific goals by using the most advanced hypnosis techniques. No prerecorded sessions are used in the office, and you never need to listen to CDs or recordings for reinforcement.[ read more... ]


Directions from I-540: take EXIT 14 Falls of Neuse Rd. and proceed SOUTH on Falls of Neuse Rd. for ½ a mile. Get in the left lane so that you can turn left into the office driveway immediately after passing the Piper's Tavern. The office is halfway down, in Suite 110. The sign on the door says CyberImaging.

Directions from I-440: take EXIT 10 Wake Forest Rd. Proceed NORTH about one mile as Wake Forest Rd. becomes Falls of Neuse Rd. Proceed another 4 miles. After passing Strickland Rd. stay in the right hand lane. The office will be on the right just before you reach the Pipers Tavern. Turn into the office driveway and the office is halfway down in Suite 110. The sign on the door says CyberImaging.
Give Carolina Family Hypnosis a call at 919-453-2519. Cynthia will be happy to answer all of your questions so you can comfortably decide if hypnosis is right for you.