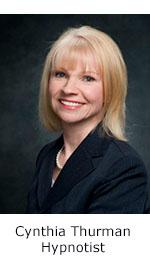 WELCOME TO THE PRACTICE OF CYNTHIA THURMAN, CERTIFIED HYPNOSIS PROFESSIONAL
When looking for a hypnotist, it's important to find a qualified professional who can help you get results quickly, and with whom you feel comfortable working with. I have been conducting hypnosis sessions professionally for over 15 years and have experience working with a variety of issues, having assisted hundreds of people in enhancing their lives. Whether you want to lose weight, stop smoking, reduce stress, overcome fears, achieve goals, or reach peak performance, hypnosis can help you to bring about the desired change and improvement to your life when everything else has failed.
I am a Consulting Hypnotist, CH, with the National Guild of Hypnotist, and a 5-PATH® Certified Hypnosis Professional, CHP. I am a member in good standing and abide by the National Guild of Hypnotists Code of Ethics. My full-time practice is built upon providing confidential, professional hypnosis services in a safe environment. Live, one to one sessions are tailored and customized to meet your specific goals by using the most advanced hypnosis techniques. No prerecorded sessions are used, and you never need to listen to recordings for reinforcement.
All sessions are conducted live via Zoom, Facetime, or phone, and customized to your unique needs. Years of experience have proven that virtual sessions are just as effective as in-person sessions, with no commute time and traffic. In addition, clients find they are more comfortable working from their home or office, which enhances the positive outcome. [ read more... ]
What clients say:
"Cynthia Thurman of Carolina Family Hypnosis was able to help me stop smoking when nothing else worked. Smoking was affecting my health, and my doctor had been urging me to quit. I had spent the last few years trying Chantix, gum, patches, and cold turkey, but was unsuccessful. My doctor suggested that I try hypnosis, and a friend told me how Cynthia helped him quit smoking a few years ago. With the work I did with Cynthia, I was able to quit quickly and for good this time. I am really proud of myself for being a nonsmoker now. I would still be smoking, were it not for Cynthia's skill and experience."
Bill G., Wake Forest, NC

"Not feeling good enough had always haunted me, regardless of my accomplishments. Although skeptical of hypnosis, I read over the material on Cynthia's website and decided to schedule an appointment. I am so glad I did! The changes I experienced in my level of confidence and emotional energy were subtle after each session. The cumulative effects after five sessions have been pretty amazing. I have experienced some life-changing events since our sessions - events that would have normally knocked me on my a__; however, I am feeling pretty awesome!"
Kathy M., Cary, NC

"I had always wanted to be hypnotized and was actually an avid believer already, but I was still nervous my first time. I chose Cynthia Thurman by searching around on the Internet - her location, smile and her being a woman all drew me in. I desperately wanted a female coach to help with something like weight loss. When I spoke to her on the phone initially, I knew she was for me. No pretentiousness or ego, and such a soothing voice. Cynthia made me instantly comfortable and I learned so much about myself in the Five Path program she utilizes. I've already lost nearly 15 pounds and it would likely be more if I was able to exercise more. I just went through a second shoulder revision surgery and still can't drive yet, but I imagine that soon enough, I'll be able to lose even more. The homework she gives for home also helps immensely. If you keep doing that, and if you let Cynthia into your subconscious, you can achieve great things! She gets an A+ 100 from me!
Morgann L., Raleigh, NC


For a Free Consultation, Give Carolina Family Hypnosis a call at 919-453-2519. Cynthia will be happy to answer all your questions so you can comfortably decide if hypnosis is right for you.